PROJECT OVERVIEW ––––
A food eatery concept powered by technology. FoodBox utilizes locally sourced produce and grain, harnesses power by solar panels, and helps eliminate plastic waste by using renewable resources.
ROLES
Strategist
UX Researcher
UX Designer
DELIVERABLES
Business concept
UX Personas
Observational studies
Competitive app studies
User journey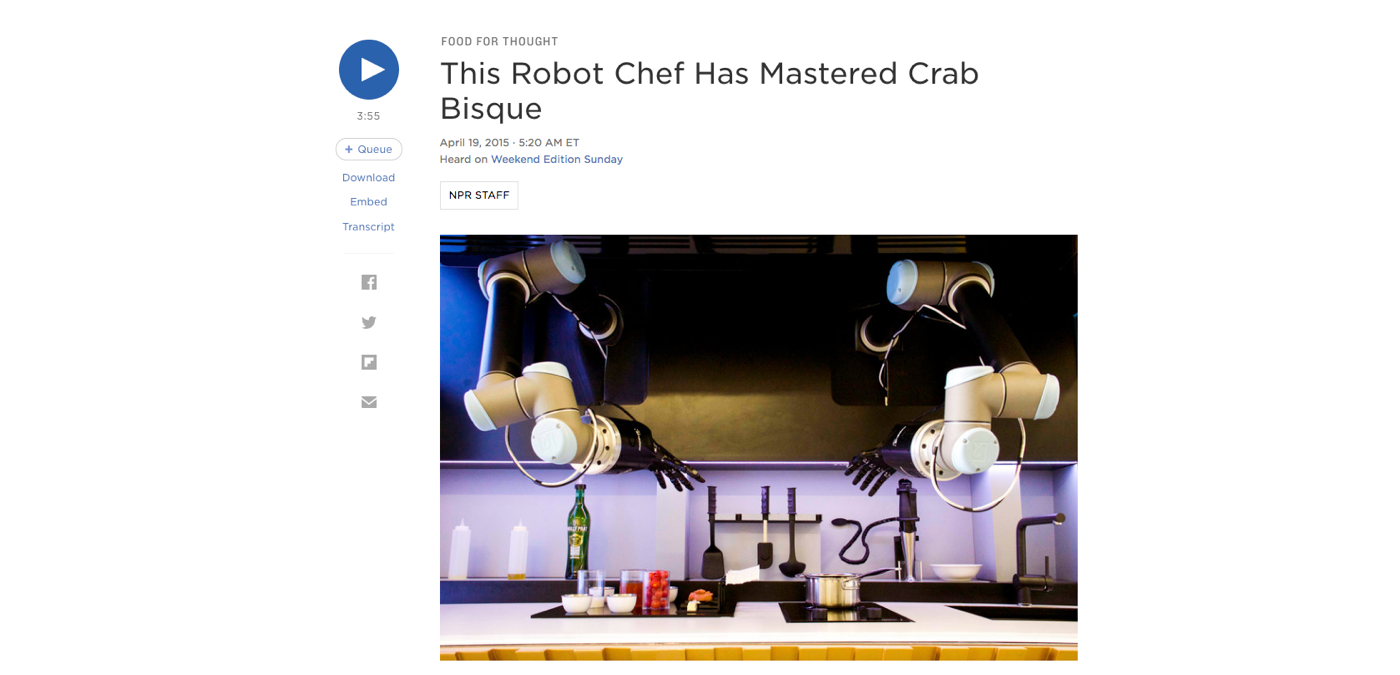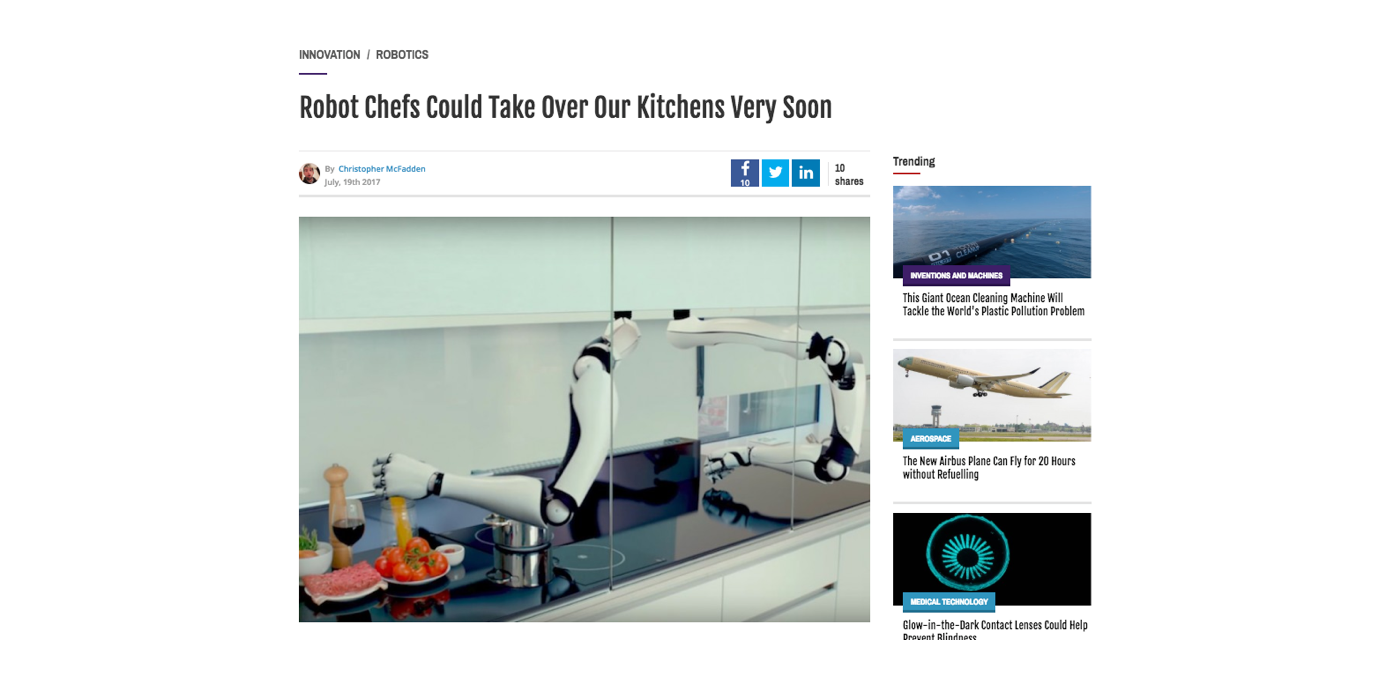 THE RISE OF ROBOTIC COOKING TECHNOLOGY
Technology is moving at lightning speeds and we're seeing some of the first robot chefs like Moley Robotics. Capitalizing on the rise of this technology, I came up with the futuristic concept of a free-standing restaurant that was solely powered by robot chefs – no human employees would be present.
"The robotics industry is growing and the Boston Consulting Group has estimated that spending on robots could "jump from just over $15 billion in 2010 to about $67 billion by 2025.""
A FUTURISTIC FOOD ESTABLISHMENT CONCEPT
In a Creativity & Innovation course taken at SDSU as part of my Entrepreneurship minor, my team and I created a concept of a robotic food eatery called "FoodBox". The idea targets the problem of young professionals who do not have 24/7 access to quick, healthy, and affordable food options.
FoodBox establishments would be self-standing independent structures that could be built on college campuses, shopping malls, and downtown areas. The structures have solar panels to generate power. FoodBox offers the ability to place your food order ahead of time, to be later picked up in a heated locker with a custom password. The food preparation is done completely by machinery -- the process is able to be seen through a large glass window which creates a novelty experience.
 
CURIOSITY LED ME TO EXPLORE THIS IDEA FURTHER
After creating a futuristic business idea, FoodBox, for my Entrepreneurship class, I was interested in how a user would interact with it considering it would be powered completely by robots. I decided to do the user experience for FoodBox as a self-initiated passion project.
CHALLENGE
Communicate a warm and friendly food ordering experience with no human interaction.
SOLUTION
By drawing inspiration from in-person experiences, I created a journey that leads customers through the ordering process feeling confident in their order.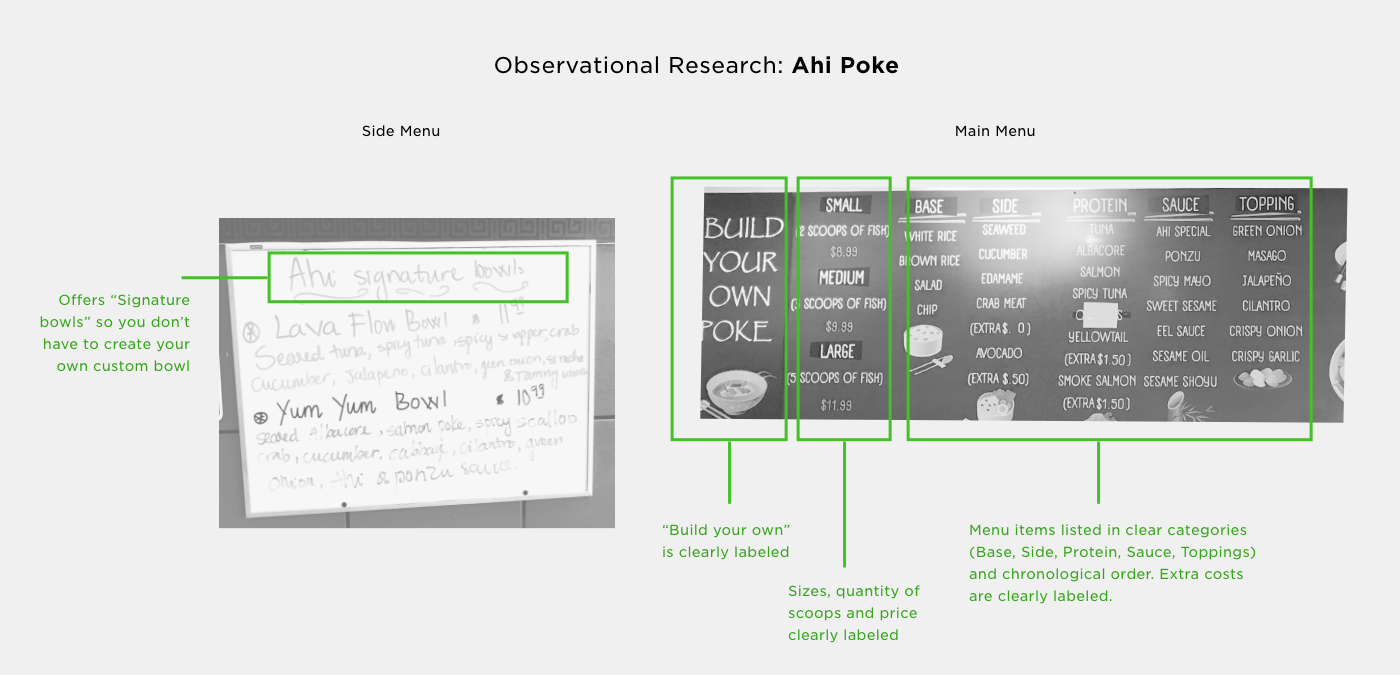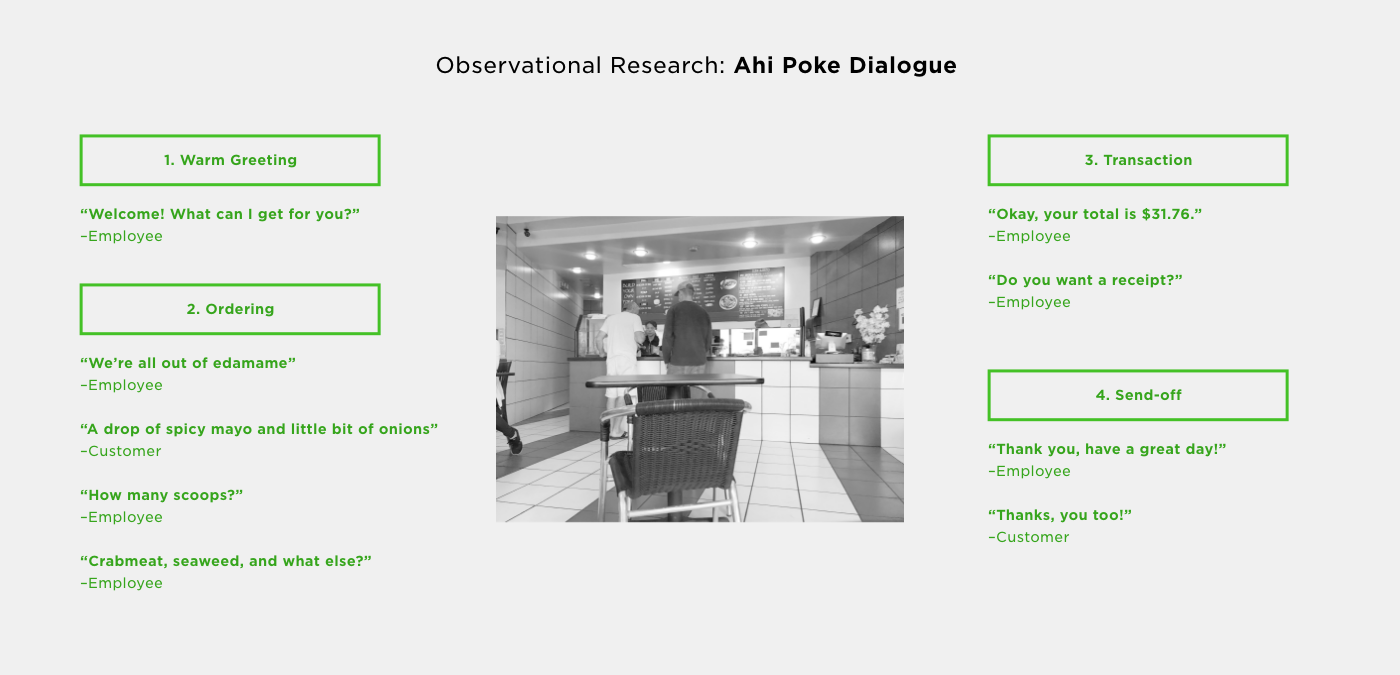 STUDYING THE HUMAN CONNECTION
The concept of FoodBox only works if the user is able to place food orders seamlessly and not notice that they don't interact with a person at all. To do this, I needed to design the interface to emulate a natural interaction you would have with a food establishment employee while placing orders.
IDENTIFYING OPPORTUNITIES
After observing the dialogue exchange that happens while ordering food in-person, I was able to pinpoint opportunity areas for the interface. For example, in the diagram above you can see that since I observed a customer specify "a little bit of onions", there's an opportunity for the interface to offer the ability to choose the amount of an item.
TAKING A LOOK AT EXISTING PRODUCTS
With the rise of online ordering, there were many businesses to gain valuable insight from. I turned to UberEats and Starbucks to study how they guide a customer through the online ordering process.
Why Starbucks?
One of Starbucks' brand values is "Creating a culture of warmth and belonging, where everyone is welcome." Since FoodBox will be completely powered by robots with no human interaction, it was crucial to communicate warmth and friendliness. Also, Starbucks orders can be completely customized, so their ordering app provided insight into how to allow customization in a simple and intuitive way.
 
• 19 y/o female
• Embraces change & posts on social media
• Enjoys "novelty" experiences
• Tech-savvy and early adopter for a variety of new products
• University student
USER NEEDS: A satisfying and delightful experience to tell her social media following about it.
• 26 y/o female
• Willing to step out of their comfort zone
• Wouldn't identify as tech-savvy but they're willing to learn
• Loves exploring and adventures
USER NEEDS: An intuitive in-person experience that allows her to explore various options and offers helpful feedback
• 32 y/o male
• Short on time and values convenience
• Spends a lot of time in the city
• Frequents lunch with coworkers
• Likes to order lunch ahead to save time
USER NEEDS: A quick way to place his own and his coworker's order before they take their lunch break.
• 35 y/o female
• Values human interaction when placing orders
• Vegetarian and allergic to dairy products
• Skeptical of placing an order online
USER NEEDS: The ability to highly customize her order due to her dietary restrictions.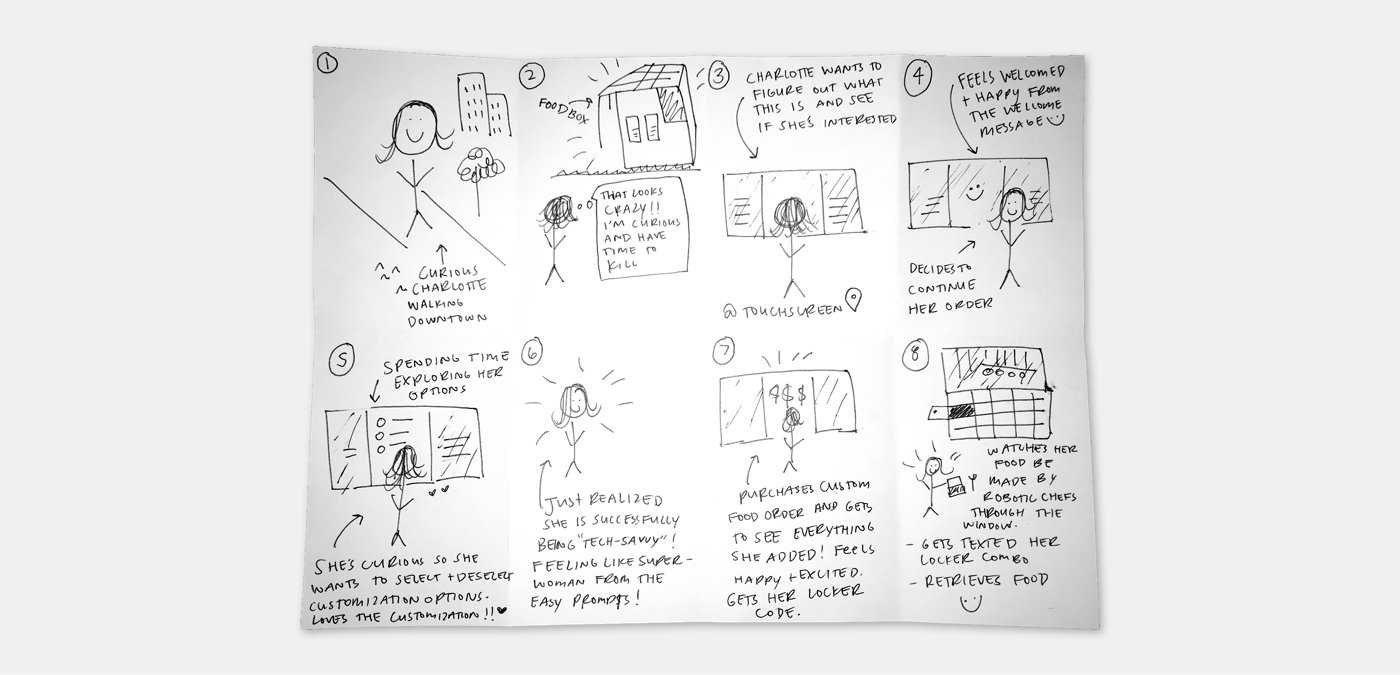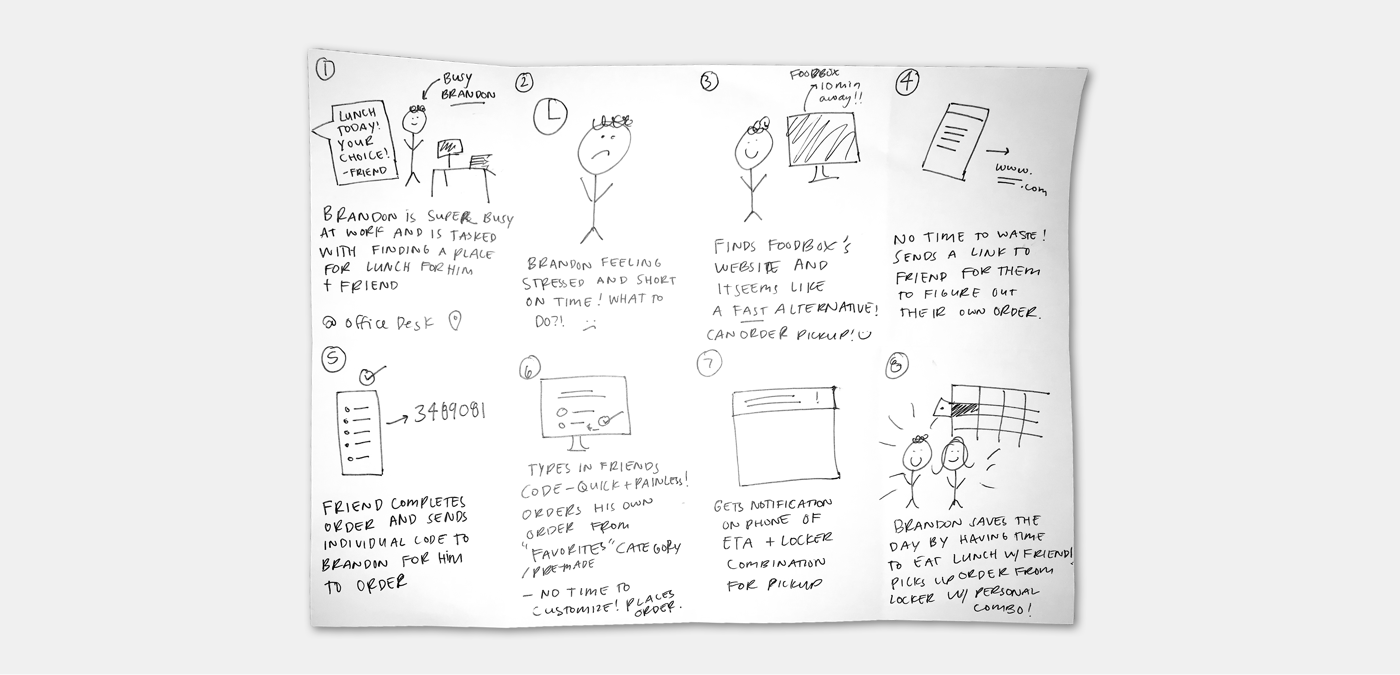 BUILDING AN EXPERIENCE FOR INDIVIDUAL NEEDS AND GOALS
I used storyboarding as a way to step inside the user's shoes and pinpoint areas of frustration and satisfaction during their experience with FoodBox. I looked at two distinct personas: Busy Brandon and Curious Charlotte.
Busy Brandon needs speed and the ability to order for a friend
Busy Brandon is tight on time at work and is taking a friend out to lunch. He feels stressed out as he tries to decide where they can go, knowing he has eat quickly to get back to work. He decides to order FoodBox online, and sends his friend the link. His friend is able to build their order completely and share an individual code to Busy Brandon. Busy Brandon is able to then enter in the individual code to populate his friend's order and add it instantly to his cart. Then he is able to order his own food; since he doesn't have any time to waste he orders from the "signature" options without adding any customizations. The food is ready when he arrives and he is able to enjoy his time with his friend instead of worrying.
Curious Charlotte likes to take her time and loves customization
Curious Charlotte is walking leisurely downtown and spots FoodBox across the street. Since she's curious and enjoys trying new experiences, she decides to walk up to it to learn more. She realizes that it's a digital interface and feels uncomfortable in her abilities to place an order. Once she sees the welcome message and helpful instructions, she feels welcomed and happy. She enjoys taking her time to explore things so she decides to build her own bowl and thoroughly go through all of the customization options. Curious Charlotte is given helpful prompts that guide her through the process, and she enjoys that she can mix and match options and continually edit her order.
 
NEXT STEPS
After analyzing the users and identifying their individual needs and goals, I am continuing to create low-fidelity wireframes to conduct user tests on the general flow and architecture.